Small Capital Grants Scheme for Social Enterprises 2019
1st November 2019 @ 8:00 am

-

11th November 2019 @ 3:00 pm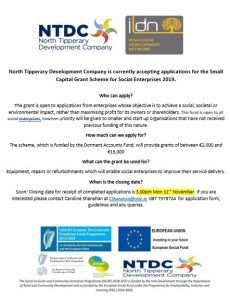 North Tipperary Development Company is currently accepting applications for the Small Capital Grant Scheme for Social Enterprises 2019.
Who can apply?
The grant is open to applications from enterprises whose objective is to achieve a social, societal or environmental impact, rather than maximising profit for its owners or shareholders. This fund is open to all social enterprises, however priority will be given to smaller and start up organisations that have not received previous funding of this nature.
How much can we apply for?
The scheme, which is funded by the Dormant Accounts Fund, will provide grants of between €2,000 and €15,000
What can the grant be used for?
Equipment, repairs or refurbishments which will enable social enterprises to improve their service delivery.
When is the closing date?
Soon! Closing date for receipt of completed applications is 3.00pm Mon 11th November. If you are interested please contact Caroline Shanahan at CShanahan@ntdc.ie  087 7378724  for application form, guidelines and any queries.