The 16 days of Action campaign which ran from 25th November (UN Day for the Elimination of Violence against Women to 10th December 2022 International Human Rights Day), to raise awareness of victims of Domestic Abuse ran by Ascend Domestic Abuse Service for Women in collaboration with Barnardos, TLC Kidz Programme, North Tipperary.  Both organisations were delighted to launch posters for the event – North Tipperary's 16 Facts for 16 Days of Action Against Gender Based Violence and My Wishes.  The 16 Facts poster aims to provide 16 Facts about our organisation and where you can access help in North and South Tipperary. Barnardos TLC Kidz is launching its poster – My Wishes, which gives voice to the children to express their wishes.
Many services/organisations will be taking part across North Tipperary, and you will see the posters being displayed locally.   
"We are delighted and proud to be hosting the 16 Days of Action here again in North Tipperary.  It has become a powerful and important tradition in North Tipperary and many services welcome the opportunity to take part.  We especially have a good uptake from our statutory services such as the Gardai and Courts service for which we are very grateful", commented Ascend Manager, Kathleen Maher
Ascend Domestic Abuse Service said that it was preparing for what it anticipates could be a further surge in calls in the run up to Christmas from women in the North Tipperary area.  We have seen a consistent increase in the number of referrals to the service since 2020.
Women experiencing domestic violence and coercive control, and those close to them, are encouraged to connect with Ascend Domestic Abuse in North Tipperary and Cuan Saor in the South of the county for free and confidential support and advice.
Kathleen Maher commented that "we would like to remind women to reach out to us in Ascend for support.  We are providing outreach support in towns across North Tipperary and court accompaniment and a woman can also talk to us on our helpline numbers below".
Rather a lot of women experience fear and hurt against them and their children at this time of year, as partners and ex-partners use Christmas as an opportunity to exert control.  We are here to support women", she concluded.
An Garda Siochana also contributed to the poster and Inspector Amanda Reynolds, Nenagh Garda Station commented, "An Garda Síochána in the Nenagh District, wish to highlight and support the work of ASCEND in helping victims of Domestic Violence, and demonstrate safer ways in which victims of domestic violence can access support and help. An Garda Síochána understand that making the first contact seeking help can be a difficult step. We are here to support and help any victim of Domestic Violence."
Impact of Domestic Violence and Abuse on Children
Experiencing Domestic Violence and abuse can negatively affect children's wellbeing and development. Domestic violence can be seen as a violation of a child's rights for protection as outlined in United Nations Convention on the Rights of the child (UNCRC).
In 2019 there were 4,791 disclosures of abuse of children in the context of domestic violence made to Women's Aid. The abuse of children disclosed, included children being physically, sexually and emotionally abused as well as witnessing the abuse against their mothers (Women's Aid Ireland, 2020).
TLC KIDZ Programme
The TLC Kidz Programme in North Tipperary is a group work recovery Programme for children who have lived with domestic violence and abuse. This coordinated community response sees agencies in North Tipperary coming together to support children and their mothers to heal from the impact of their experiences. The Programme is hosted by Barnardos and other agencies involved include Ascend, Silverarch FRC, Probation and Welfare service, An Garda Siochana, M.O.V.E, Youthwork Ireland Tipperary, Templemore Social Services, School Completion Programme and Tusla
Social Work and PPFS.
Children's 16 wishes
Margaret Carroll, TLC Kidz Coordinator in North Tipperary stated that "children of different ages that are engaged with the TLC KIDZ Programme and with Barnardos Family Support Service were asked about their wishes for their families.  We received a great response from the children and some wishes included – that 'I wish people would listen to me', that 'there would be no more fighting', and a wish for 'one good Christmas'.
For more information contact:
Ascend Domestic Abuse on their helpline 0505-23999 or 087-9501299 Monday – Friday 9am-5pm.
Ascend Domestic Abuse Service is a programme of North Tipperary Development Company.
Barnardos, TLC Kidz Programme Co-Ordinator, Margaret Carroll on 086-0471042.
The posters designed for the event were designed to show 16 facts for 16 days around supports in North Tipperary.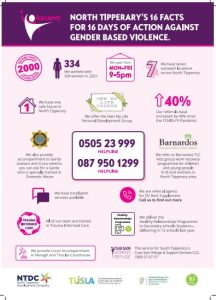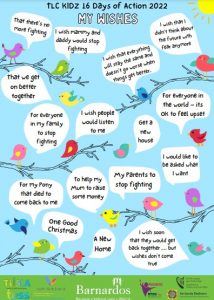 For more information on Ascend Supports, click here – Ascend Information