Defining Family Support
Family Support is a broad term and encompasses a range of approaches and interventions. The current definition used in Ireland was developed by Pinkerton et al (2004) and it defines Family Support as:
"Both a style of work and a set of activities which re-enforce positive informal social networks through integrated programmes. These programmes combine statutory, voluntary, community and private services and are generally provided to families in their own homes and communities.  The primary focus is on early intervention aiming to promote and protect the health, wellbeing and rights of all children, young people and their families, paying particular attention to those who are vulnerable or at risk."
Pinkerton et al (2004) also developed a set of practice principles based on national and international evidence that inform practice.  These principles are used in current policy documents on children's services.
Family Support Principles:
The principles of Family Support are:-
Working in partnership with children, families, professionals and communities.
Family Support interventions are needs led, and strive for minimum intervention required.
Require a clear focus on wishes, feelings, safety and well-being of children.
Family Support reflects a strengths-based perspective which is mindful of resilience as a characteristic of many children's and families lives.
Effective interventions are those which strengthen informal support networks.
Family Support is accessible and flexible in respect of timing, setting and changing needs, and can incorporate both child protection and out of home care.
Facilitates self-referral and multi-access referral paths.
Involves service users and front-line providers in planning, delivery and evaluation on an on-going basis.
Promotes social inclusion, addressing issues of ethnicity, disability and rural/urban communities.
Measures of success are routinely included to facilitate evaluation based on attention to outcomes for service users, and thereby facilitate quality services based on best practice.
Family Support should aim to enhance rather than diminish the confidence of those being supported.  It requires professionals to behave as respectful allies as opposed to patronising experts.  It needs to "wrap around" the particular circumstances and child rearing stage of the family.
NTDC Family Support Projects
The Family Support Project was developed in 2017, with funding sourced through Tusla.  The Project works in a variety of ways to provide supports for young people and families in the town of Roscrea.
Referrals can be made by a wide variety of sources, including self-referrals. The family support worker is there to provide one-to-one support, as well as parenting programmes for both groups and individuals, Meitheals, a listening ear, a signpost service when needed, and is always good for a cuppa.
NTDC operates two family support projects under:
The Roscrea Youth Services Project.
Roscrea Family Support Project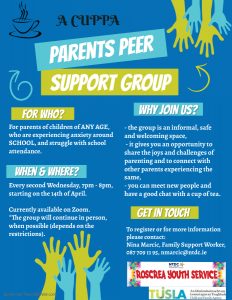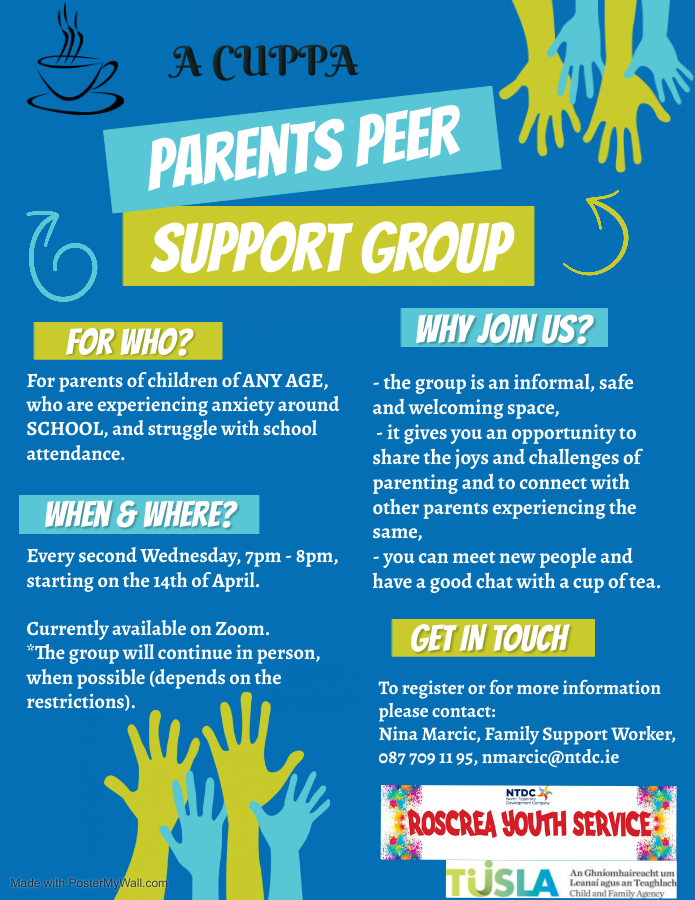 The Family Support service is a community-based early intervention approach that works in partnership with families, different agencies and professionals to ensure efficient delivery of services. The service is child-centred and works to promote and protect the health, well-being and rights of all children, young people, and their families. At the same time, particular attention is given to those who are vulnerable or at risk.
Family support is a strengths-based approach which promotes family coping, resilience and strengthens positive informal social networks. The Family support worker is there to provide one to one support, parenting support, delivery of parenting programmes or a signposting service when needed. Families can self-refer by directly contacting the Family support worker or can be referred by other professionals.
For more information contact:
Nina, Family Support Worker: nmarcic@ntdc.ie | 087-7091195
Resources
North Tipperary Parenting Support Guide
The Guide contains reliable information about the range of parenting supports available in North Tipperary, including an outline of the supports each service provides and details of how to get in contact with service. There is also some useful information regarding key parenting messages and National Support Lines. It is available to download here: North Tipperary Parenting Support Guide
Roscrea Family Support Needs Analysis
NTDC recently launched the Roscrea Needs Analysis, available to download here: 2020 Roscrea Family Support Needs Analysis
"This analysis highlights areas that need to be challenged. As a forgotten town on so many levels, I feel our town is on the up with the recent improvements. I'm looking forward to Roscrea's future." Fionnuala Kenny, Senior PPFS Manager with Tusla Mid-West.