About NTDC
North Tipperary Development Company is a local development company responsible for the delivery of a range of rural enterprise, social inclusion, and community development initiatives in the Tipperary North County area.
The purpose of NTDC is "to act as a voluntary, non-profit making, private limited company with a mission to promote social inclusion, to promote economic development, increase employment and enterprise opportunities and promote wider participation in voluntary activity for the people of the area".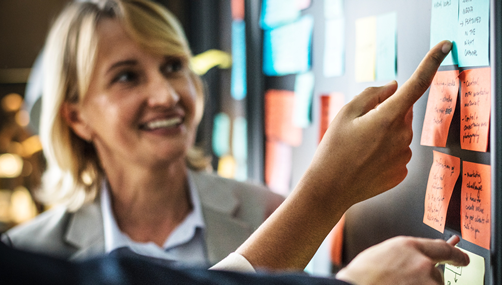 Upcoming Events
How to Navigate Zoom Online Tutorial Sessions
NTDC has compiled FREE workshops on "How to Navigate Zoom"
We have put together 10 quick video sessions on how to navigate Zoom.
Each session is packed with handy tips on how to use zoom for personal and professional use.
These can be viewed at your own discretion and whatever time of the day or night to suit your needs.
To view the tutorials, click HERE.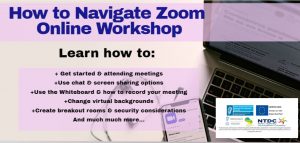 Full Details
DATE
Friday 12th June 2020 - Thursday 31st December 2020
LOCATION
North Tipperary
Next Step 2020 – Transitioning workshop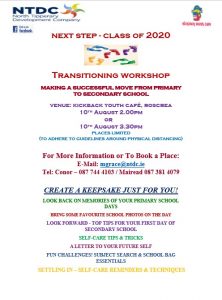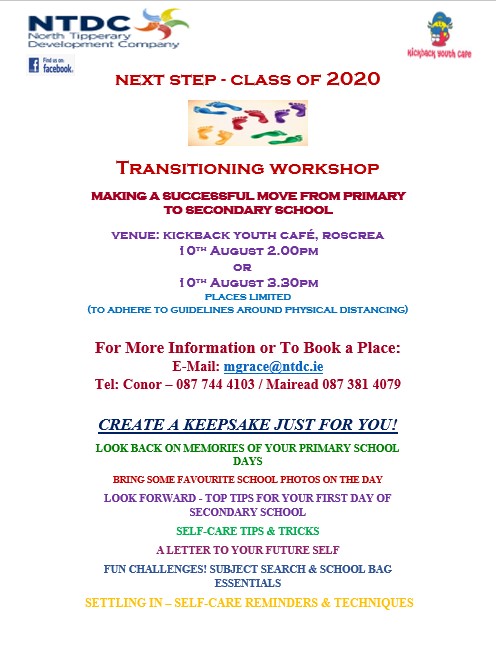 Transitioning workshop
MAKING A SUCCESSFUL MOVE FROM PRIMARY TO SECONDARY SCHOOL
Venue: Kickback Youth Café, Roscrea
10th August 2.00pm
or
10th August 3.30pm
(Places Limited) – (to adhere to guidelines around physical distancing)
For More Information or To Book a Place:
E-Mail: mgrace@ntdc.ie
Tel: Conor – 087 744 4103 / Mairead 087 381 4079
CREATE A KEEPSAKE JUST FOR YOU!
LOOK BACK ON MEMORIES OF YOUR PRIMARY SCHOOL DAYS
BRING SOME FAVOURITE SCHOOL PHOTOS ON THE DAY
LOOK FORWARD – TOP TIPS FOR YOUR FIRST DAY OF SECONDARY SCHOOL
SELF-CARE TIPS & TRICKS
A LETTER TO YOUR FUTURE SELF
FUN CHALLENGES! SUBJECT SEARCH & SCHOOL BAG ESSENTIALS
 SETTLING IN – SELF-CARE REMINDERS & TECHNIQUES
Full Details
DATE
Monday 10th August 2020
LOCATION