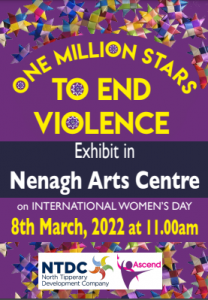 One Million Stars to End Violence was originally established in 2012, in Queensland, Australia, by Maryann Pau Talia as a means of condemning violence and demonstrating solidarity. After the tragic death of an Irish woman, Amber Women's Refuge in Kilkenny brought the project to Ireland and it has now expanded across 18 counties with Ascend Domestic Abuse Service in North Tipperary collaborating with Cuan Saor Women's Refuge in South Tipperary.
Several local schools, voluntary organisations, craft groups and services, have kindly donated their time in weaving the stars which were then creatively put together and the project is now on display in Nenagh Arts Centre.
The One Million Stars community has become global. Maryann used the creative act of star weaving to rebuild trust amongst communities and since then has invited groups around the world to get involved.
Coordinator of Ascend Domestic Service North Tipperary – Kathleen Maher
"I would like to thank Ute Duggan for building the display and bringing this display to life.  I would also like to thank Emma Daly our Volunteer Co-ordinator".
Ascend would like to acknowledge the following groups and schools who took part in star weaving.
Colaiste Mhuire, Thurles.
Joseph's College, Borrisoleigh.
Borrisokane Community College.
St Cronan's Association service users who attend Mary Gill House in Springfort Nenagh.
Nenagh Craft Group.
Barnardos TLC Kidz Mother's Group.
Roscrea Youth Project.
And special gratitude to St. Mary's School, Nenagh for star weaving and creating the display.
Kathleen Maher added "I would also like to thank The Cathaoirleach of Nenagh District – Michael O'Meara for opening the exhibit and Eva Birdthistle of Nenagh Arts Centre for her support in organising the event.  Finally, I would like to thank the funders of the project – Healthy Ireland represented today by Dan Downey and NTDC SICAP team represented by Joanne McCarthy".