NTDC Ascend Domestic Abuse Programme had launched it 16 days of Action campaign this month. The campaign runs from November 25th 2020 to December 10th 2020.
Ascend will be adopting Orange Day, as a bright and optimistic colour which represents a future free from violence for women and girls.
There has been an increased of domestic violence since lockdown began in 2020. Ascend are delighted and proud to be hosting Orange Day for the Fifth year running.
For more information on Ascend Supports and services, click HERE
Below is the article featured in this weeks Nenagh Guardian.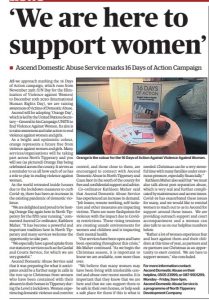 Source: Nenagh Guardian 28/11/20, Tipp Starr 21/11/20