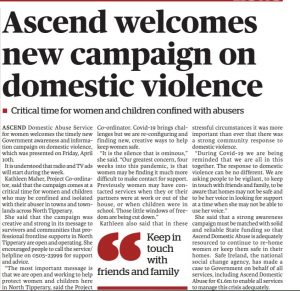 "Ascend Domestic Abuse Service is an initiative of North Tipperary Development Company.  It offers confidential support services and information to women who have or are experiencing domestic abuse in their intimate relationships. Services include one to one support, a helpline, court accompaniment, information and outreach support. The service is available throughout North Tipperary including Roscrea, Nenagh and Thurles.
Ascend's primary purpose is to ensure that women have support and information about the dynamics of domestic abuse and of relevant services available so that they can make informed choices. The Service is committed to ensuring that every woman will live a life without coercive control and reclaim the power to fulfil her potential.
We continue to operate during COVID-19 our helpline is 0505-23999 and mobile 087-9501299.  Our office hours are 9am -5pm Monday to Friday.
We are offering telephone support to women and can assist if you need to go to court.  Please contact the numbers above."