SICAP & LAES MANAGER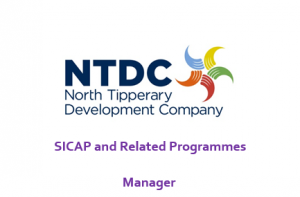 NTDC invites applications for a Manager who will have responsibility for the day to day management of the SICAP & LAES Programmes. This is an exciting and challenging opportunity to manage well-established and highly regarded programmes which have a strong and dedicated staff team.
The appointee will be responsible for ensuring the effective and efficient operation of the programmes and the quality of the supports offered. They will be responsible for providing supervision and support for staff in relation to the work and their ongoing professional development. They will also work as part of the wider management team within NTDC and contribute to the ongoing development of the wider organisation.
The successful candidate must meet the criteria of the job specification including:
At least a Level 8 professional qualification in a relevant area (e.g., community development, social work, education, or a related field). Qualification must be approved by a relevant registration body.
At least 5 years' experience in community development work.
At least 2 years' project management/ staff management experience.
Experience of direct work with the target group individuals and communities.
Strong track record in identifying community needs and working with communities to develop community led responses to those needs.
TERMS OF EMPLOYMENT
Full-time position – working 35 hours per week. The is initially a fixed term contract until 31st December 2026.
The salary is commensurate with qualifications and experience based on a salary scale of €53,345 – €65,172.  Short-listing of candidates may apply.  A panel may be formed from which future positions may be filled. Garda/police vetting will apply to this post. Informal enquiries to mmurray@ntdc.ie
Closing date and time: Thursday 21st December 2023 by 12.00 noon.
Guidance for Candidates SICAP Manager and Related Programmes 2023
Job Description SICAP Manager 2023
Application Form SICAP Manager 2023