2021 Nenagh Safe Pass Training – Tuesday 25th of May 8am to 5pm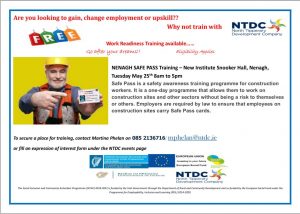 To secure a place on the training, please contact Martina Phelan on 085-2136716/mphelan@ntdc.ie or alternatively click here to secure your place
Safe Pass is a safety awareness training programme for construction workers. It is a one-day programme that allows them to work on construction sites and other sectors without being a risk to themselves or others. Employers are required by law to ensure that employees on construction sites carry Safe Pass cards. As a result, employers must ensure that all employees are properly trained.
The Safe Pass programme is operated and managed by SOLAS and aims to:
Raise the standard of safety awareness in the construction industry.
Ensure that all construction site workers undergo basic health and safety awareness training to prevent accidents and avoid health hazards.
Maintain a register of personnel who have completed the Safe Pass programme.
Provide all Safe Pass participants with a Safe Pass registration card to confirm that the holders have attended a formal course in health and safety awareness.