Individual Grant Aid, under the Social Inclusion Activation Programme (SICAP)
7th July 2020 @ 8:00 am

-

21st July 2020 @ 5:00 pm
Individual Grant Aid, under the Social Inclusion Activation Programme (SICAP)
Individual grant aid for Upskilling, opens today, 7th of August until  the 21st  of August, 2020 at 5pm. Any late applications will not be considered
Grants for individuals, are intended to provide financial assistance to those who are experiencing unemployment and under employment at this time and who need to retrain or up skill.   The maximum grant for an individual is €500.00 per annum; one application per applicant.
These grants are intended to assist individuals to obtain a certified or FETAC accredited vocational skill from a recognised training provider within the island of Ireland
COMPLETING YOUR APPLICATION FORM:  
SECTION A                     APPLICANT'S ELIGIBILITY CRITERIA 
The applicant must have and state the desired outcome or occupation, describing the reason behind the training sought.
The applicant must have a letter from any other agencies where they were unsuccessful in securing the funding, this stating the reasons for refusal, where applicable.
The applicant must also meet the SICAP eligibility criteria
You are obliged to inform NTDC if you have applied for or been awarded or will receive a Back to Education Allowance (BTEA) payment for this academic year.
You are obliged to inform NTDC if you have applied for, been offered or will receive any other financial assistance from any other sources for your training course. A declaration to verify this element is on the application form for signature – should NTDC become aware of duplicate funding, awarded funding will be retracted.
SSECTION B – PERSONAL DETAILS
If you are completing this application as a mature student, you must provide documentation pertaining to your eligibility to access this funding, i.e. Proof you are unemployed, a letter from your employer or from a community employment supervisor, where applicable.
SSECTION C – PROGRESSION OPPORTUNITIES
 Each applicant MUST provide a detailed account of why this funding fits in with past employment interests, education or training. The applicant must also provide where applicable, a letter from employers who have a position available.
SSECTION D – Applicants Under the Age of 18 years
If you are completing this application as a student dependent on parent(s) or legal guardian(s) Parent or legal guardians must meet SICAP eligibility criteria, as stated in Section A, under eligibility criteria. Please download and fill attached parental/Guardian Consent form
For Funding criteria and application form, please contact,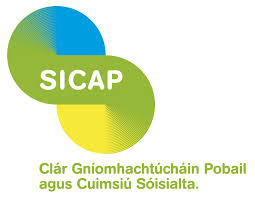 Martina Phelan, at North Tipperary Development Company, 1 Kickham Street, Thurles, Co. Tipperary, E41 D935, 0852136716/052-9149939/0504-90579 or by email on mphelan@ntdc.ie