Taoiseach Leo Varadkar has said people should use face coverings when using busy public transport or in an enclosed indoor public area, such as retail, from Monday, as part of Phase One of the easing of Covid-19 restrictions.
Speaking at Government Buildings, he said the guidance for Phase One is to stay at home except to go to work if your workplace is open and you cannot work from home, to shop for items you need, to exercise within 5km and for medical reasons or to care for others.
Up to four people who do not live in the same household will be allowed to meet up outdoors, as long as they maintain a two-metre distance.
The four basic hygiene measures remain the same, which is to wash hands regularly, to maintain two-metre physical distance when possible, to sneeze or cough into your elbow or tissue, and to stay home and isolate if you feel unwell, Mr Varadkar said.
The additional hygiene measure that has been advised is to use face coverings when using busy public transport or in an enclosed indoor public area, such as retail.
The Taoiseach said the wearing of face coverings is advisory and is not a legal requirement.
"The science shows they may be beneficial but they are not a substitute for all of the other guidelines.
"We are not recommending people wear surgical masks as that might lead to a shortage for healthcare masks. This is why we are using the term covering in preference to masks," he said.
Minister for Health Simon Harris said there will be guidance issued by the Department of Health on how to make your own face covering.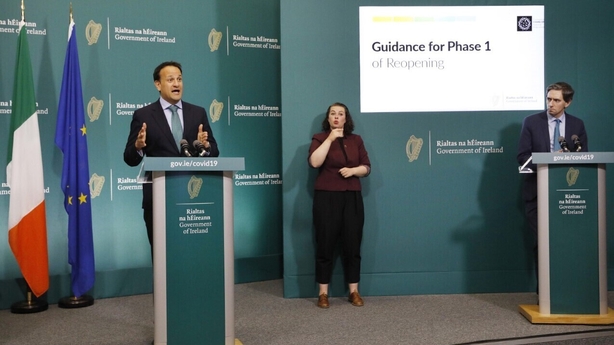 He said: "I would urge people not to judge those who choose not to wear face coverings.
"There may be people who do not want to wear one due to allergies, or for people who have autism it may cause irritation. We are not advising that those who are under 13 years of age should wear one."
Chief Medical Officer Dr Tony Holohan said face coverings cannot be regarded "as some sort of magic shield".
Dr Holohan said the other hygiene measures, such as hand washing and social distancing, must continue.
He said people cannot interpret the message about wearing face coverings to mean that you can disregard the requirement to remain socially distant.
Under Phase One, businesses that can reopen include garden centres, farmers' markets, bicycle shops and motor garages, electrical and IT stores, as well as opticians.
Construction workers and gardeners can also to return to work on Monday.
The Taoiseach said there will be a designated worker on each construction site who will have responsibility to ensure that public health guidelines are being followed.
---
Source: https://www.rte.ie/news/ireland/2020/0514/1138513-coronavirus-restrictions/
Image Source: https://thenewdaily.com.au/life/wellbeing/2020/04/30/face-masks-coronavirus-australia/