ECTC are hosting an online meeting for communities in Tipperary "How Your Community Can Benefit from the Energy Transition".
This will take place on Tuesday September 22nd from 7.30-9pm. This event will be an introduction for local groups interested in developing local energy projects.
To confirm your place, please click on this link: www.bit.ly/mwswreg
The webmeeting will be held on Zoom. Connection details will be sent after registration.
The event will include
·        What supports are available under SEAI's Sustainable Energy Communities Programme? (15 mins)
·        What can a local Energy Plan do for your community? (10 mins)
·        Short Case Studies of 2 successful Tipperary-based community energy projects (www.EnergyCommunitiesTipp.ie and www.CommunityPower.ie ) (10 mins each)
·        There will also be an opportunity for discussion and questions. (25 mins)
The meeting will be hosted by Gearóid Fitzgibbon and Sean Sweeney, who are part of our Community Energy Mentor team in Tipperary. Other speakers include Eoghain O'Horgan of Tipperary Energy Agency, Marcella Maher Keogh of Energy Communities Tipperary, and Derry O'Donnell of Community Power. This is an open meeting. All communities seeking to find out more information are invited to register to attend.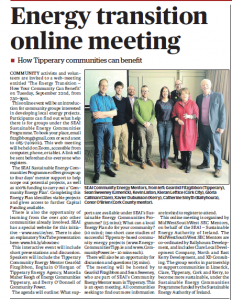 Source Article: The Nenagh Guardian 19/09/2020 edition