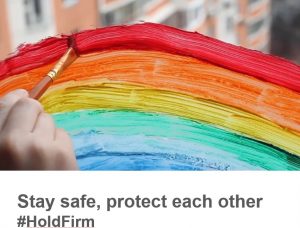 Staying away from the people we love and the things we enjoy is not easy. But it's us at our best – taking care of each other, supporting the people on the frontline and the people most at risk in communities all across the country. Holding firm for each other.
Protecting ourselves, the people we love and the people on the frontline is something we can only do together as a community.
The HSE have launched a new way of thinking around CoVid 19 and protecting society.
We're facing challenges but the health service is open. If you're unwell or have a medical emergency, please use the health service; call your GP or urgent care services.
Hold Firm is part of the ongoing COVID-19 public health advice programme from the HSE and the Department of Health. Our communications team are here to help with information on media channels, information resources or digital content.
If you have any queries or ideas, please contact partner.pack@hse.ie, or visit hse.ie/communications.
Source : https://www.hse.ie/eng/services/news/media/pressrel/new-hse-campaign-holdfirm.html