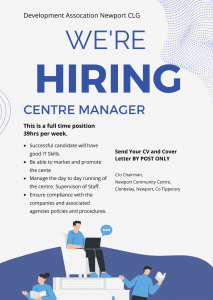 The Development Association Newport CLG are seeking a full-time manager at their centre in Newport.
Duties will include but are not limited to the following.
• Market and promote the Centre
• Schedule maintenance and ensure the Centre is kept to the highest standard
• Manage the day-to-day expenditure and operate with the budget provided.
• Ensure compliance with all the companies and associated agencies policies and procedures.
• Supervision of staff.
If interested please forward your CV & Cover letter to
C/o Chairman, Newport Community Centre, Clonbelay, Newport, Co Tipperary