Many thanks to both Midland Tribune and Tipperary Star for coverage this week on the LEADER Grant allocated to Nenagh Olympic AC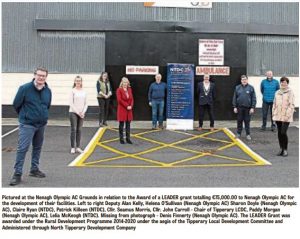 Pictured above at the Nenagh Olympic AC Grounds in relation to the Award of a LEADER grant totalling €75,000.00 to Nenagh Olympic AC for the development of their facilities.
(left to right) Deputy Alan Kelly, Helena O'Sullivan (Nenagh Olympic AC) Sharon Doyle (Nenagh Olympic AC)., Claire Ryan (NTDC), Patrick Killeen (NTDC), Cllr. Seamus Morris,
Cllr. John Carroll – Chair of Tipperary LCDC, Paddy Morgan (Nenagh Olympic AC), Lelia McKeogh (NTDC). Missing from photograph – Denis Finnerty (Nenagh Olympic AC). The LEADER Grant was awarded under the Rural Development Programme 2014-2020 under
the aegis of the Tipperary Local Development Committee and Administered through North Tipperary Development Company.

Source @ Nenagh Guardian April 10th 2021