NTDC's Rural Development Programme (LEADER) and Clare Local Development Company were delighted to announce the cooperation of funding  for €222,752 towards the Ballina Killaloe Sports and Community Facility for the development of Rugby and Athletics Training in Clarisford Park.
Clarisford Park is a 30 acre park containing a rugby pitch, soccer pitch, all-weather sand pitch, all-weather artificial pitch, running/walking trail and a community park. Clarisford Park is home to Ballina Killaloe Rugby Football Club, Lough Derg Football Club, the 5th / 22nd Killaloe Scout Group, Derg Athletics Club and Clarisford parkrun.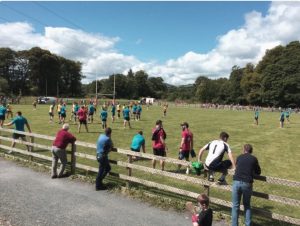 There is an intergenerational sports hall and dressing room facilitates. It also provides indoor training and lots of space for events and fundraisers. All facilities are open to clubs and groups on a pay-for-play basis.
The hall and all-weather pitch can also be booked for children's birthday parties. Bring your own decorations, food, entertainers and bouncy castle and enjoy an action packed birthday in Clarisford Park. Clarisford Park Sports Hall, Changing Rooms and All-Weather Pitch are Wheelchair Friendly.
For more information go to www.clarisfordpark.ie
The LEADER grant was awarded under the Rural Development Programme 2014-2020 with the support of the Tipperary Local Development Committee and administered through North Tipperary Development Company.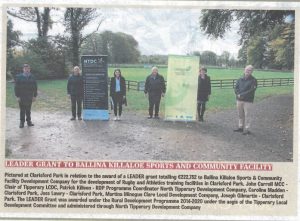 Pictured above is: Cllr John Carroll Chair of Tipperary LCDC, Patrick Killeen RDP Co-ordinator NTDC, Caroline Madden & Joss Lowry Clarisford Park, Martina Minogue CLDC & Joseph Gilmartin Clarisford Park.
Source of image – Tipperary Star 25/11/2020
Also www.clarisfordpark.ie