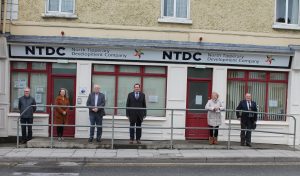 Pictured at the North Tipperary Development Company Offices in Kickham Street Thurles recognising the Award of a LEADER Grant totalling €140,000 to upgrade and develop the NTDC Community Centre are: Michael Carey Tús Supervisor NTDC, Mary Callanan NTDC Ascend Project Worker, Paddy Barry NTDC Vice Chairman, Michael Murray NTDC CEO, Breada Ryan NTDC Project Officer, Jim Finn Chairman NTDC. The LEADER Grant was awarded under the Rural Development Programme 2014-2020 through the Tipperary Local Community Development Committee
North Tipperary Development Company's
Kickham Street Thurles  
   Community Centre to Receive €190,000 Upgrade
The Board of North Tipperary Development Company have welcomed the €140,000 LEADER grant towards the refurbishment and upgrade of their Kickham Street Thurles premises to allow for the development and expansion of their community facilities, resources and services in Thurles and its surrounding areas. The Grant has been provided though the Tipperary County Council's administered Tipperary Local Community Development Committee (LCDC) under the 2014 – 2020 Rural Development Programme (LEADER)
Jim Finn Chairman of NTDC stated that "The Grant is part of an overall project expenditure of €190,000 and will allow for the conversion of the buildings first floor from residential to office and administration accommodation, upgrade and create community and youth meeting, training and resource facilities and provide for a general energy upgrade of the building".
North Tipperary Development Company North Tipperary Development Company is a local development company responsible for the delivery of a range of community, enterprise, social enterprise, energy, and employment services. NTDC operates primarily within the Nenagh and Templemore Thurles Municipal District Areas though it is also involved in some other geographical area.
Paddy Barry, NTDC Vice Chairman and Chair of the Community Centre Development Committee outlined "His delight with the award of the grant, which will create much needed facilities and allow for the expansion and development of NTDC and other statutory and community agencies services in the Thurles area. Paddy goes on to say "that this development provides opportunities for the delivery collaborative services with other agencies and community groups in the area. It is envisaged that we will promote the facilities to allow other community groups and agencies delver community services in the area". Paddy also "complimented the staff team involved for progressing the project and formulating a Development Plan for the Community Centre".
Michael Carey NTDC Tús Supervisor and Project Lead for the upgrade stated he is "looking forward to the commencement of the work once Covid Restriction allow and is particularly satisfied with the large energy retrofit element of the project in line with NTDC's lead role in developments in the energy area and with NTDC's recent commitment to become a Sustainable Energy Community (SEC)".
Jim Finn Chairmen also states that "The approach of NTDC is bottom-up, community-led, close to the point of delivery and above all, developmental. It is, therefore, in full harmony with the key aspects of the programmes which it implements including the LEADER Programme, SICAP, RSS, Tús, and the Domestic Violence Outreach Service, Primary Health Care, Youth Services, Community Employment, Youth Counselling, Family Support, Energy Programmes and Childcare. It is also fully consistent with the Community Led Local Development Model which is endorsed both at European and National levels. These facilities will facilitate actions to meet this objective,".