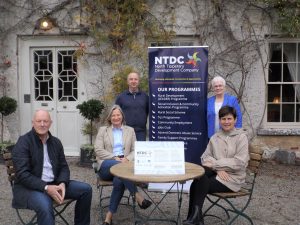 NTDC were delighted to award a LEADER grant to Cloughjordan House (Cloughjordan) to support their tourism product development. For more information on Cloughjordan House, see their website here.
The LEADER grant was awarded under the Rural Development Programme 2014-2020 under the aegis of the Tipperary Local Development Committee and administered through North Tipperary Development Company.
Pictured left to right:  Seamus O'Sullivan (NTDC), Sarah Baker (Cloughjordan House), Patrick Killeen (NTDC), Nancy White (Board Director – NTDC) and Lelia McKeogh (NTDC).