NTDC were once again delighted to be a part of a local initiative in Nenagh with the creation of 150 jobs on the horizon.
As featured in The Nenagh Guardian, the Rural Development Programme (LEADER) were instrumental in supporting this project to its new home in Lisbunny in Nenagh.
There are several types of products made available, allergens catered for and several menu options to choose from. You can view all information at www.lunchbag.ie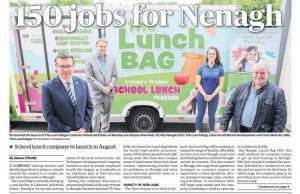 "The Lunch Bag is a healthy school lunch delivery service that provides parents with an alternative option to lunch making. Through the use of our innovative app, we seek to empower children to make healthy food choices without economic restraints. A child's diet is invariably dictated by the food available in the home every morning, food that was bought in a weekly shop, the same repetitive lunch to last the week. Our service allows children to order a wide variety of fresh food everyday, without additional cost and without food waste. While the economic and time benefits to the family are invaluable, so too, the benefit to a child's health and welfare."
For a look at how to use the app to order from the lunch bag, click HERE.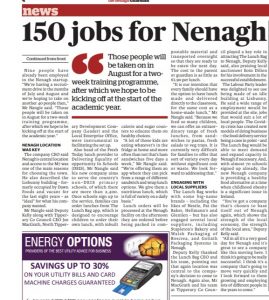 Source: Nenagh Guardian edition 27/06/2020
Or visit www.lunchbag.ie for more info