NTDC & SICAP are delighted to collaborate with Sporting Pride Ireland,  GOSHH and GCN offering a FREE online webinar on LGBTI+ inclusion in sport with a Tipperary focus!
We are inviting everyone to join us and chat with Maria Curley from Tipp Ladies Football and Na Gaeil Aeracha (Ireland's only LGBTI+ inclusive GAA club, all hosted by Irish TV presenter Anna Nolan…
Be sure to tune into GCN on Facebook live or www.gcn.ie to stream live on Aug 4th at 7pm..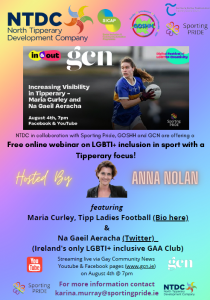 For a look at the full interview –
"Trailblazer athlete Hannah Tyrrell and 2fm radio host Stephen Byrne team up for vital conversation on mental health" – GCN
NTDC SICAP are delighted again to offer a FREE webinar on LGBTI+ Sports inclusion – "My life as an Elite Athlete" presented by none other than Stephen Byrne from RTÉ 2fm and the extremely talented Hannah Tyrrell – Irish Rugby Legend !!
We have teamed up once again with Sporting Pride Ireland, GOSHH and GCN to spark conversations around LGBTI+ support in rural Ireland, mental health, and all things sports…
Live streamed on Tuesday 28th September from 7pm – live Q&A to ask Stephen & Hannah any questions you might have –
GCN Article Published on September 21st 2021 –
GCN's festival of LGBTQ+ creativity, In and Out is back with a special discussion with the athlete and positive mental health advocate Hannah Tyrrell! Sporting Pride has teamed up with GOSHH, the North Tipperary Development Company (NTDC), and GCN for this special event.
The event will be presented by 2fm radio host and documentary maker Stephen Byrne, another positive mental health advocate in his own right. Taking place on Tuesday, September 28th at 7 pm, this event promises to open up dialogue on the mental wellbeing of our community with a focus on those who may feel more isolated.
Joanne from the NTDC states that:
"There have been some very positive changes in attitudes and inclusion when it comes to representation of LGBTI+ in our sporting communities. However, we still have a long way to go when it comes to rural Ireland representation. North Tipperary Development Company is delighted to collaborate with such services through our Social Inclusion and Community Activation Programme (SICAP) to spark conversations… it is important that the LGBTI+ community know that there is active support and inclusion happening across both Tipperary and rural Ireland".
To read the full article, click below –
Trailblazer athlete Hannah Tyrrell and 2fm radio host Stephen Byrne team up for vital conversation on mental health