Positive Ageing Week (PAW) is an Age Action Ireland initiative. The focus is on community based events, organised by groups and individuals throughout Ireland, and national events organised by Age Action and its partners.
The International Day of Older Persons is observed on October 1 and the theme for the Age Action week 2020 is to "celebrate the older person in our lives and the contribution they make to our families and our communities"
This September 28th to 2nd October Positive Ageing Week Festival is going online across the counties of Carlow, Kilkenny, Tipperary, Waterford and Wexford. This is a regional initiative which is funded by Healthy Ireland and it involves the local authorities across the 5 counties, the HSE and members of the Older Peoples Councils across the 5 counties and it is being led by staff from Tipperary County Council.
We have 3 themes to showcase our content over the week encompassing Health and Wellbeing, Information Sessions and Culture and Diversity.
To download the full poster click HERE
We are also encouraging people across the 5 counties to take up the 21 days of walking campaign and to share your pictures on the Positive Ageing Social Media on facebook Positive Ageing Week 2020 or twitter or @PositiveAgeingW to email your photographs to paw2020@tipperarycoco.ie and in the next few months we will showcase some of this imagery across the library network in the 5 counties.
The 3 themes for Positive Ageing Week 2020 28th September to 2nd October: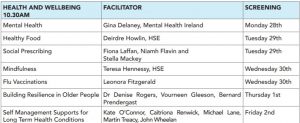 Health and Well being which are showcased Monday to Friday at 10.30 each day
Monday 28th – Gina Delaney, Mental Health Ireland
Tuesday 29th – Deirdre Howlin, Healthy Food and Social Prescribing Fiona Laffan, Niamh Flavin and Stella Mackey
Wednesday 30th, – Teresa Hennessey, Mindfulness and Leonara Fitzgerald Flu Vaccinations
Thursday 1st – Dr Denise Rogers, Vourneen Gleeson, Bernard Prendergast Building Resilience in Older People
Friday 2nd – Kate O'Connor, Caitriona Renwick, Michael Lane, Martin Treacy, John Wheelan , Self Management Supports for Long Term Health Conditions

Information Lunch Time bites which are showcased Monday to Friday at 1.30 pm each day
Monday 28th – Rob Walpole Alone and Derek Fanning Volunteer Centre
Tuesday 29th – Barbara Murphy Fair Deal Scheme, Paul Devane Library Services
Wednesday 30th – Sinéad Tynan Citizens Information John Hoctor Fire Service and Safety at Home
Thursday 1st – Sgt Tom O'Dwyer Safety and Security , Age Action Paddy Connolly CEO Age Action
Friday 2nd – Noel Hennessy Housing Options Fiona Foley Dementia Awareness

Culture and Diversity which is showcased Monday to Friday at 3.30 each day
Monday 28th – Drawing Room Opera Company Musical Engagement
Tuesday 29th – Niall De Búrca Storytelling
Wednesday 30th – Samuel Morgan, Syed Mustafizur Raham, Monika Grodecka, Liviv Iftime, Murty Brennan Intercultural Day
Thursday 1st Oct – Activity Day – we encourage you to go for walk, socially distanced and enjoy the afternoon and share images from your walk to paw2020@tipperarycoco.ie
Friday 2nd – Ray McGrath, Storytelling
All content showcased during Positive Ageing Week 2020 will be available on www.tipperarycoco.ie after the 5th of October.
Please select the links below to register for the zoom webinar showcasing content for Positive Ageing Week 2020.
Source: https://www.tipperarycoco.ie/community-and-economic-development/positive-ageing-week-2020