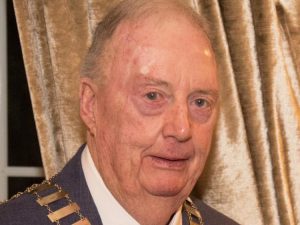 The Board of North Tipperary Development Company would like to remember John Cahill as the first anniversary of his death approaches. John was an integral part of the establishment and growth of the NTDC company we see today. John was a valued member of the board of directors for over 15 years where he showed his commitment and passion for the community and voluntary sector, striving to achieve best outcomes for the communities across North Tipperary. John also gave his time to several other community and voluntary organisations:
· Member of Roscrea 2000 & NTDC Board and since 2007
· Member North Tipperary Community & Voluntary Association
· Chairs of NTDC Audit & RDP (LEADER) Committee
· Member of Roscrea Lions for over 50 years, President twice
· President of Roscrea Golf Club
· Chair Roscrea Heritage Society
Today we would like to remember John; to his loving wife Ita, sons Mark and Shane, daughter-in-law Áine, grandchildren Seán, Niamh and Gráinne, nieces, nephews, relatives, kind neighbours and many friends we offer our heartfelt condolences as you recall warm memories of John at this time.