The River Nore Vision
The Nore Vision. It is a locally led initiative, an innovative & cooperative venture between the four LEADER Company's namely, North Tipperary Development Company, South Tipperary Development Company, Kilkenny LEADER Partnership and Laois Partnership. According to Jim Finn Chair of North Tipperary Development Company  "The Nore Vision is a long-term initiative focused on developing a sustainable approach, to balance & optimise the environmental, recreational and enterprise-support of the River Nore's waters, its catchment and its people".
Nore Vision Program 2020 is a community development and land use management training initiative. It aims to promote awareness of the importance of the River Nore's biodiversity and water quality including its importance as a salmon spawning ground, freshwater Pearl Mussel preservation area and a diverse ecosystem. Michael Murray NTDC hopes that " by engaging the communities from the 110,000 catchment of the River through a Training in Action Programme and  activating working groups to become a part of a sustainable long term River Trust, the River Nore can be protected for generations to come".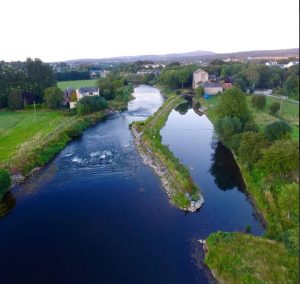 The Nore River catchment is the source of drinking water, flood control, biodiversity, food, and resource production for some 110,000 residents across 2,500 km² in a strong farming region of 3 counties: Tipperary, Laois & Kilkenny.
Some events have already taken place and communities are engaging via Norevision.ie in upcoming events i.e., Farm Walks, Invasive Species Balsam Bashing and new Citizen Science Events. The first walk was held on the farm of John & Bridgette Martin in Clonakenny and was attended by 8 people including an Ecologist & Field Officer. The project is supported in his area by the Bournea Reaching Out Committee and the Clonakenny Tidy Village Committee.
As Environmental Improvement will be a core part of farmers funding support going forward Jim Finn hopes that "the project will help in building relationships with landowners and working with farmers to outline a vision for a Blue Catchment. This will further develop positive farming, hedgerow and woodland practices in the area".    The farm walks, focused on the upland communities of the catchment, consist of a 90-minute walk and chat with Ecologists about the host farm.

Overview of the Nore River running through Clonakenny Village
A survey that follows will gain information on what the participating farmers would want from a local community group that will enable local farmers to have a platform to develop Environmental Enhancement Projects (EEPs) for funding their farming enterprises in an alternative way.
Other Programmes planned include Invasive Species Training – In Action involves training participants to identify and report or clear problematic species from their small stream/river network. Topics covered in the Invasive Species training sessions include: Threats posed by invasive species, identification of common invasive species, survey techniques, best-practice eradication techniques with a particular focus on Himalayan Balsam, health and safety and biosecurity. To Participate sign up under INITIATIVES at www.norevision.ie or go to our Facebook page and sign up.
Upcoming Citizen Science Program – During July, Nore Vision will provide free training in an exciting new method developed here in Ireland, that anyone can use to examine the quality of their local rivers or streams. Created by Dr. Simon Harrison of UCC, the 'Citizen Science Index' looks at the types of water bugs that are found at the bottom of our rivers. Signing up for Nore Vision Water Quality training in July is also an excellent way to learn more about the animals that live in our rivers and stream and what affects water quality.
To participate, sign up under INITIATIVES at www.norevision.ie or click HERE  to visit The Nore Vision Facebook page and sign up.
Nore Vision is a generational initiative that aims, through partnership and collaboration, to create a legacy for the Nore Catchment area based on healthy watersheds, sustainable ecosystems and thriving communities.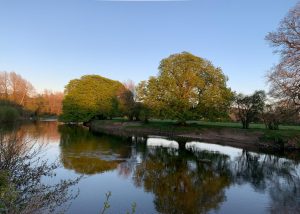 Local Feature on Nenagh Guardian Newspaper on 18/07/2020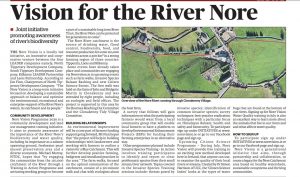 Source: Michael Murray, CEO, NTDC & Nenagh Guardian 18/07/2020 edition