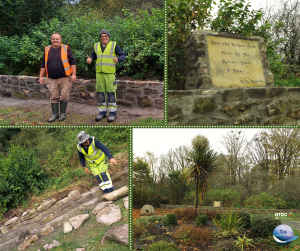 The beautiful traditional stonework at Riverside Park, Newport, is the work of Tús Participant Peter Jennings (NTDC) and CE Participant John Turner (Newport Tidy Towns). Working with their host community, Newport Tidy Towns, the two stonemasons crafted the low boundary wall at the park and joined with a team to create a curved seating area by the river during the summer of 2021.
Developed in 2000 at the site of the old handball alley, the Park has benefitted from the support of the Tús Programme throughout the years, with participants playing a key role in the upkeep of the site. The new stonework has proven to be a wonderful addition to the already picturesque space overlooking the river Mulcair.
Peter and John are now bringing their stonework skills to several community projects across North Tipperary, with work currently underway at Ballymackeogh Graveyard, Newport.
If you are a host community that is non-profit or volunteer led and would like to learn more about the supports available through the Tús Programme, please visit the Tús Programme page here or email receptionHO@ntdc.ie.
If you are interested in participating in the Tús Programme, please click here to complete an Expression of Interest form.