Tús celebrates it's 10th year in North Tipperary. We are very proud to be part of this very successful community based employment scheme that provides work opportunities that benefit the community.
Tús NTDC works with host communities across North Tipperary with a variety of work placements to suits everyone's skill level whilst also providing opportunity to up skill and gain experience along the way.
If you are looking for more information on this scheme and how you can self refer, please click HERE.
for any further queries please contact receptionHO@ntdc.ie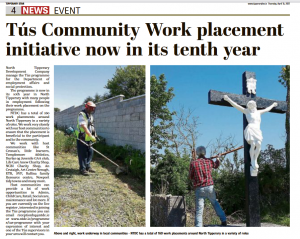 Many thanks to the Tipperary Star and Nenagh guardian for their coverage.