North Tipperary Development Company were delighted to collaborate with several organisations across Nenagh Municipal District, to distribute the NTDC List of Essential Services flyer.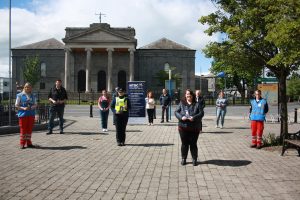 Community Collaboration during CoVid 19
North Tipperary Development Company are delighted to collaborate with several local organisations to help distribute the list of services flyer currently available. Pictured are several organisations that have collaborated to distribute the NTDC CoVid 19 Response Flyer throughout Nenagh Municipal District. Pictured – Joanne McCarthy – NTDC, Denise Kennedy & Jason Fitzpatrick – Nenagh Irish Red Cross, Damian O Donoghue – Nenagh Community Response Tipp North, Mary Jo O Reilly – Nenagh Éire Óg, Tracey Thompson – Tipperary County Council, Member of An Garda Siochana- Nenagh Branch , Philomena Keyes, Seamus O Sullivan, John Bonfield and David Kyne – Tús / Rural Social Scheme.
These flyers are currently being distributed and if you would like to get a copy, you can call to our offices on Friar Street, Nenagh, where the Nenagh flyer is available in the lobby or you can download here for the following areas:
or
Contact our offices and we can arrange delivery to your community…