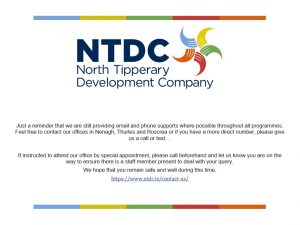 Just a reminder that we are still providing email and phone supports where possible throughout all programmes. Feel free to contact our offices in Nenagh, Thurles and Roscrea or if you have a more direct number, please give us a call or text (Click HERE for contact details)
If instructed to attend our office by special appointment, please call beforehand and let us know you are on the way to ensure there is a staff member present to deal with your query.
We hope that you remain safe and well during this time.