Roscrea Youth Service have launched their very first newsletter. It is jammed packed with information on the services available, recent competitions, activities and upcoming workshops. It also introduces you to some of the fantastic staff we have working with us here in NTDC.
Click to see – Roscrea Youth Service Newsletter April 2021
To see a list of upcoming events taking place through the different Youth Services please click HERE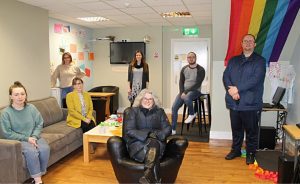 Pictured:
Allison Ryan – Youth Justice Worker, Mary Grace – Youth Wellness Development Worker, Marie Ryan – Youth Justice Worker, Nina Marcic – Family Support Worker, Conor Britton – UBU Youth Development Worker, Maedhbh Gordon – Manager, Robert Foley – Lead Youth Worker.