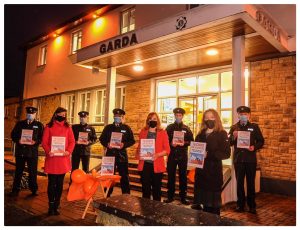 NTDC Ascend Project    
_
About Ascend                         
NTDC Ascend Domestic Abuse Service for Women offers confidential support services to women who have or are experiencing Domestic Abuse in their intimate relationships. This also includes abuse within family relationships.
Our services include:
One-to-One Support.
Helpline.
Court Accompaniment.
Information and Outreach Support.
Personal Development group.
Delivery of Healthy Relationships Programme to Transition Year students.
Provision of a Safe House.
Service User testimonial:
"Thanks to all the good, caring people in Ascend and the people, like myself, who were so fortunate to have found Ascend. I would never have got through the tough times without all of you. Please let people know that there is HOPE along the way". 
Ascend Co-Ordinator, Kathleen Maher, says: "Here at Ascend, we understand that making the first contact can be a difficult step; we are here to help and listen.  We offer confidential and non-judgemental support and information.  Or if you are worried about someone you know and need support or advice please contact us".
Our Services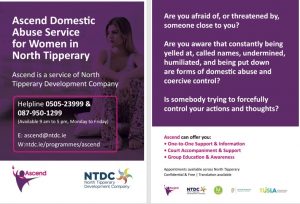 Ascend is compromised of a small staff team working under the management and support of North Tipperary Development Company.
We provide support and information to women who have, or are, experiencing domestic abuse in their intimate relationships.  We aim to put the safety of women and children at the centre of our work. We aim to empower women in their lives, and to advocate on their behalf where appropriate.
This service offers support, information, listening and an understanding of domestic abuse issues. We can meet you at a place and time of your convenience throughout North Tipperary.
We offer a confidential listening and informative telephone service where you have the opportunity to discuss any concerns you may have about domestic abuse in your life.
We will provide you with emotional support; someone will listen to you, believe you, and help you get clarity on your situation. We are here to help a woman identify her options.
A safety plan will be created in consultation with you. This can be done in person or initial contact can be made over the phone.
If we have concerns about your safety or that of your children we will make a referral to specialised services within Tusla.
We can accompany you and participate in Child Protection conferences and other relevant meetings as requested.
We make referrals to programmes such as TLC Kidz, Family Support Services, external Counselling services, Pieta House and any other relevant agencies according to your needs. We provide support with regard to the following agencies: Referral to a refuge, or alternative temporary housing through Social Work, Social Welfare, Housing and homeless services, Child Protection, Gardaí, Legal Aid, St. Vincent de Paul and many others.
Court Accompaniment Service
We can:
Support you in court on matters relating to domestic violence, maintenance, child access, separation and divorce.
Give you a clear understanding of the procedures of court.
Accompany you to appointments with solicitors at your request.
Explain the different court orders to you.
Explain what is required of you by the Courts when Orders are granted.
Provide on-going service to you throughout your court history and follow-up.
We do not provide legal advice or counselling services.
Other Services
We run a Personal Development group for women to support their recovery and rebuild their self-esteem.
We also deliver a Healthy Relationships programme for Transition Year students, girls and boys to promote self-esteem, help them identify abusive behaviour and signpost services. The sessions are interactive and engaging for the young people, promoting discussion and reflective learning.
We are part of the interagency group-work programme TLC Kidz,  hosted by Barnardos, for children and mothers who have been exposed to domestic abuse.
We are part of the North Tipperary Local Area Network, Safe Ireland, and the Irish Observatory on Violence Against Women.
Own My Life Courses: The Own My Life course is run by Ascend as an innovative, creative and educational course for women. It supports women in regaining ownership of their lives when they have been subjected to abuse. This is done through short videos, structured discussions, group and individual activities, and a comprehensive learning journal. Phone 087-9501299 for more info for our next course.

Contact Us
Helpline: 0505-23999
Coordinator: 087-9501299
E-mail: ascend@ntdc.ie
Facebook:  https://www.facebook.com/AscendDomesticAbuse/ or CLICK HERE
Twitter : https://twitter.com/AscendAbuse or CLICK HERE 
Instagram : https://www.instagram.com/ascend_domesticabuse/ or CLICK HERE
Service User Feedback Form
We would appreciate it if you would take a few minutes to share your experience with us.
Please click here to fill in a service user feedback form
Your feedback helps us improve our ability to provide you with the best service possible. Thank you!
Ascend Domestic Abuse Service for Women, North Tipperary
Tipp FM Campaign 2021: Domestic Abuse in 3rd Lockdown
Coercive Control Webinar with Dr. Emma Katz 2021
To mark the 16 Days of Action which starts on the 25th November 2021, Ascend NTDC and the Barnardos TLC KIDZ Project (North Tipperary) were delighted to host a webinar on Coercive Control with Dr. Emma Katz. 
The Prevention, Partnership & Family Support Dept., Tusla were also present to speak about their experiences and to show ways to identify and support victims through this.
Upcoming Webinar: Growing Up in a Porn Culture with Dr. Gail Dines
April 6th 2022 | 8.00pm-9.30pm | Click HERE to register
For more information on Dr. Gail Dines, click HERE.
Literature and Forms
Please find our literature and forms available to download below:
Ascend Service User Feedback Form
Ascend Domestic Abuse Service Annual Report 2021
Domestic Violence Court Orders
Ascend- Signs of an unhealthy relationship leaflet for young people
Ascend- Managing access safely for you and your child
Ascend- Primary School teacher information guide
Leaflet Domestic violence court orders 2019
NTDC.POL.0011 Complaints Policy