The Rural Social Scheme provides income support for low-income farmers in return for part-time work in rural communities. It is based on a 19½ hours flexible week to ensure your participation does not affect your farming activities.
North Tipperary Development Company currently has an allocation of 44 places with 2 supervisors placed in various locations across the North Tipperary Area.
Criteria for Eligibility
To qualify you must provide a copy of your Basic Payment Scheme application for the current year, including a valid herd number. You must be in receipt of Farm Assist or one of the following qualifying Social Welfare/Means Tested payments:
Jobseeker's Allowance
One-Parent Family Payment
Jobseekers Transitional Payment
Widow(er)'s Pension (Contributory or Non-Contributory)
Disability Allowance
Adult Dependents of Non-Contributory Old Age Pensioners who themselves are under 66.
If you are eligible and do not wish to participate on the RSS, your dependent spouse/civil partner/cohabitant can apply in your place.  You may also permit a sibling or child to use your Herd Number to participate, once they satisfy the other qualifying criteria.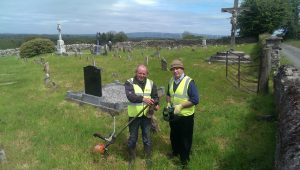 Rates of Payment
Rates of payment depend on your qualifying Social Welfare payment. Your local RSS supervisor will advise you of rates applicable at time of application.
PRSI Contribution
A PRSI contribution (Class A) is paid in respect of each participant.  Those earning less than €352 per week will not be subject to PRSI.
Participants are exempt from USC
What Type of Work is carried out
Maintaining and enhancing way-marked ways, agreed walks and bog roads.
Energy conservation work for the elderly and less well off.
Village and countryside enhancement projects.
Social care and care of the older person.
Community care for pre-school and after-school groups.
Environmental maintenance work, maintenance and caretaking of community and sporting facilities.
Projects relating to not-for-profit cultural and heritage centres.
Community administration or clerical work.
Other appropriate community based projects.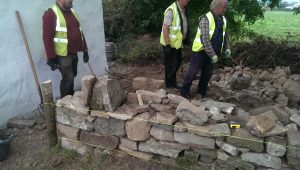 RSS participants attend a dry stone wall building course. 
Eligible Organisations
Implementing Bodies play the lead-role in identifying organisations to provide RSS placement opportunities. Those organisations eligible to participate must be:
Community, voluntary and not-for-profit in nature, including Implementing Bodies.
Have a recognised informal (parish/community committee, trade, sporting,   cultural or other association) or formal/legal structure (a company limited by guarantee, not-for-profit co-operative or friendly society where profits or surpluses are not distributed to members)
Demonstrate a track record of working with or providing services to and within their communities;
Demonstrate a capability of managing a participant in a place with the supervisory support of the Implementing Body
For further details on the Rural Social Scheme click on this link to our brochure RSS brochure 2019
or talk to one of our supervisors listed below.
Contact Details:
David Kyne 087-1229438
E-mail: dkyne@ntdc.ie
Mary O' Dwyer 087-9109261
E-mail: modwyer@ntdc.ie
Form Downloads